Asset locating & management software
Real-time asset & equipment visibility, tracking & reporting
Having decided on the most appropriate technology to track your assets, equipment or inventory, the next step is how to collect, store and manage this data in a way that is relevant, useful and fit for purpose.
Acumentive's award-winning SenseAnyWare software suite delivers flexible, scalable solutions to your organisation's asset locating and management needs. GS1 Certified and developed to work in a hardware agnostic environment, our software platforms have the unique ability to capture data across technologies and create hybrid applications.
SenseAnyWare provides a full developer API, allowing seamless integration into other systems so it becomes an integral part of your wider processes and infrastructure.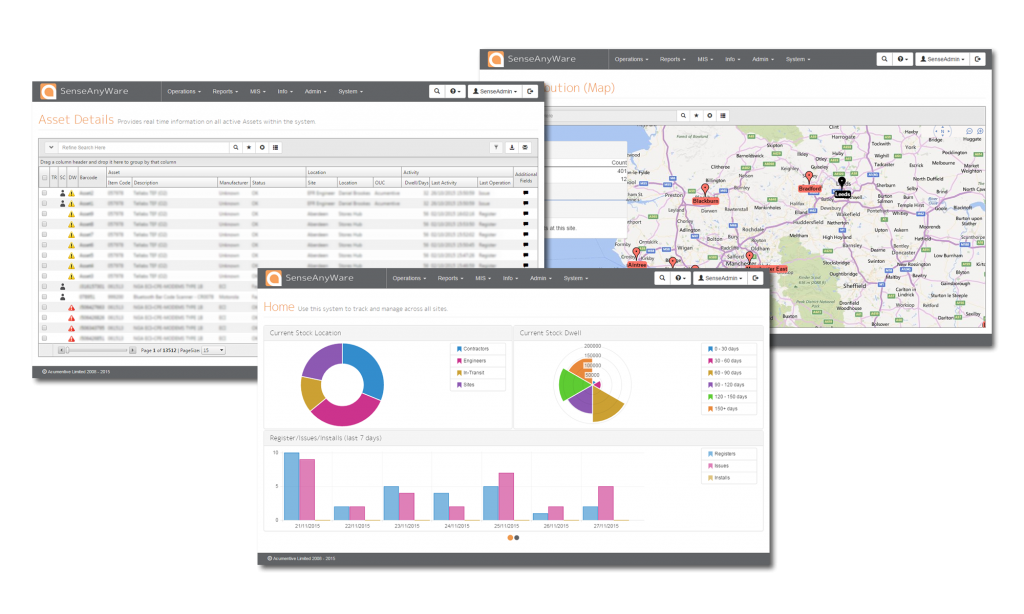 For organisations who need to be able to physically locate and track as well as mange and report on their assets and equipment, our flagship product SenseAnyWare provides a complete end-to-end solution.
Combining the most appropriate auto-ID technologies with easy-to use web-based software, SenseAnyWare delivers accurate, real-time visibility and tracking – across locations, resources and in-transit – for the lifecycle of an asset.
Data captured integrates with the interface that is customisable for each customer's asset or equipment requirements. The intuitive dashboard provides asset registration and tracking functionality, process management, a complete audit trail, reconciliation, compliance monitoring and reporting, and offers both real-time and historical information as well as MIS capabilities.
Depending on your organisation's requirements, the system can be a standard configuration for simple locating functionality, or a fully customised enterprise solution.
Download the latest SenseAnyWare brochure or contact us for more information.

SenseAnyWare CONNECT is a Location-as-a-Service solutions that enables organisations with existing asset/inventory management systems to conduct automated real-time locating and tracking.
The SenseAnyWare CONNECT platform allows swift deployment of auto-ID infrastructure, and aggregates location data from multiple streams and technologies into a single repository for extraction to third party systems through published APIs.
SenseAnyWare CONNECT provides significant value-add to organisations; maximising the investment and operational efficiency of existing systems, with minimal disruption to users.
View and download the latest SenseAnyWare CONNECT factsheet.